3 Priorities to Scale Up Mental Health Services Amid COVID-19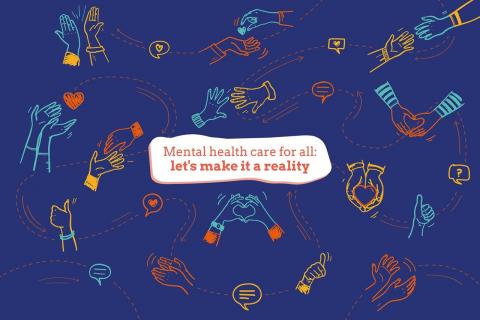 The theme for World Mental Health Day 2021, 'Mental health care for all: let's make it a reality', is apt for the COVID-19 times. The pandemic has not only disrupted and altered our lives, but has exposed social and economic inequalities that contributed in large measure to the spread of the virus. Such inequalities are also at the core of underlying health conditions which correlate with excess deaths across countries. 
Aside from the risk of getting infected with the coronavirus, vulnerable populations such as unemployed adults, youth, the elderly, and frontline healthcare workers have experienced an increased risk of mental health symptoms and disorders. To help tackle this problem, as part of the World Bank Group's support to over 100 developing countries to respond to COVID-19, health projects include funding for psychosocial interventions to help people deal with the impact from stressors such as lockdowns, self-isolation and quarantines, infection fears, inadequate information, job and financial losses, and stigma and discrimination.   
In addition to ongoing support for health systems, the adoption by governments of sustained policies and funding allocations to realize universal health coverage and high-quality primary care that can provide protection and prevent disease, is inescapable. The continuing unmet need in the care of people with mental and substance use disorders, together with the stigma and discrimination experienced by affected people and their families, deserve particular attention. 
Three priorities need to be considered to scaling up quality mental health services at all levels:
Achieving Mental Health Parity in Health Coverage
Although the global burden of disease attributable to mental disorders has increased steadily since the 1990s, they continue to be treated much differently than physical health conditions. In many countries, a common barrier to achieving parity for mental illnesses and addiction treatment are preexisting conditions clauses that deny or limit health insurance coverage.  Similarly, lack of or limited coverage of available services is prevalent in countries with public health systems. The enactment of legal mandates and regulations can help overcome these hurdles as it has been done in Colombia, Chile, Ghana, and the United States.
Other related issues that merit careful consideration include: (i) determination of which conditions to prioritize (e.g., common mental illnesses such as depression and anxiety disorders, addictions, or severe conditions such as schizophrenia); (ii) selection of treatments at different levels of care; (iii) mechanisms to expand equitable access to medicines; (iv) how to fund and reimburse for services, reducing cost barriers and eliminating out-of-pocket payments; and (v) management of quality improvement of mental health services.
Integrating Service Delivery at the Community Level
Dedicated effort is needed for integrating treatments for mental and substance use disorders into service delivery platforms at the community level, away from hospital-centric models of care, to overcome the medical profession's artificial separation of mental and physical ills-- research have clearly shown that "the brain is intimately connected to the body and the body to the brain". Improving service delivery requires strengthening referral pathways between formal and informal providers to foster communication, information sharing, education and training, and multidisciplinary teamwork .
Aside from developing benchmarks and evaluation of service performance, support is required for improving data collection and monitoring of mental health conditions and service access involving people living with mental illnesses.
Community-based mental health care in Norway is a good example of how local community mental health centers, collaborating with general practitioners and primary mental health care providers in the municipalities, and psychiatrists and psychologists working in private practices, have improved service delivery. Mobile teams meeting the child/adolescent and the family in their home, are part of the community-based child and adolescent mental health services, and addiction and substance abuse services are provided in outpatient clinics as a part of the mental health services in health trusts, and of primary health and social services run by the municipalities.
Leveraging New Technologies to Expand Access to Services  
Digital care options through teletherapy and new apps have seen explosive growth during the pandemic. They offer alternative service delivery models that help overcome obstacles that hinder access to care, such as transportation barriers, stigma associated with visiting mental health clinics, personnel shortages, and high costs.  These platforms, especially in mobile formats, can offer remote screening, diagnosis, monitoring, and treatment, facilitate remote training for non-specialist health care workers, and enhance online peer-to-peer support and self-care.
Other tech innovations include prescription video games, that challenge children ages 8 to 12 with Attention-Deficit/Hyperactivity Disorder to focus on multiple tasks simultaneously within the game environment. Or artificial intelligence (AI) chatbots that can help patients practice cognitive behavioral therapy (CBT) to become aware of inaccurate or negative thinking so that they can view challenging situations clearly and respond to them effectively. 
Online symptom tracking apps are also used to prompt patients to share data daily which are analyzed with an AI algorithm to identify patterns and alert providers in real time of any warning signs. Results from a cross-sectional survey suggest that more physical activity and less screen time are associated with better mental health for children during the pandemic, making this a potentially important target for future intervention.   
Several initiatives have been launched to deal with scarcity or lack of providers needed to reach people in need. The World Health Organization Academy aims to provide digital learning to health workers across the world on a range of topics, including mental health; EMPOWER, a Harvard Medical School initiative, provides digital training to support delivery of psychosocial interventions; and UNICEF's Caring for the Caregiver program targets community workers using online and in-person training. 
A major rethinking is needed
COVID-19 is forcing a mayor rethinking in all facets of our lives. Ensuring that people with mental and substance use disorders receive needed care and support necessitates a rethinking of health care organization and financing along the lines outlined above. Leveraging new scientific knowledge and technologies will add impetus to this task. The inherent promise of building back better depends in large measure on achieving better physical and mental health outcomes for all.